Delving into the archives, we uncover a significant event in the history of the Blackburn Empire that almost spelled its demise in 1928.
The predicament arose after nearly two decades of successful operation when the theatre faced an uncertain future. The roots of the issue can be traced back to the early 1880s when Blackburn Corporation decided to replace the old, narrow bridge over the River Darwen with a magnificent cast-iron bridge. This infrastructure project also involved the construction of new retaining walls and diverting the course of the river.
Fast forward to 1910 when the new building for the Blackburn Empire was erected. Its footings were placed into the old river bed, which had since dried up. However, in 1928, the caretaker, Jack Duckworth, made a startling discovery—the gate at the back of the theatre had shrunk. Investigation revealed that the retaining walls, constructed half a century prior, had suffered severe erosion, posing a grave risk of collapse to the theatre's foundations.
Prompted by this revelation, the Empire's Board firmly believed that the blame rested with the Corporation. Unprecedentedly, they decided to take legal action against the local Corporation, leading to a court case. Local building inspectors had already declared the building unsafe, resulting in the closure of the balcony.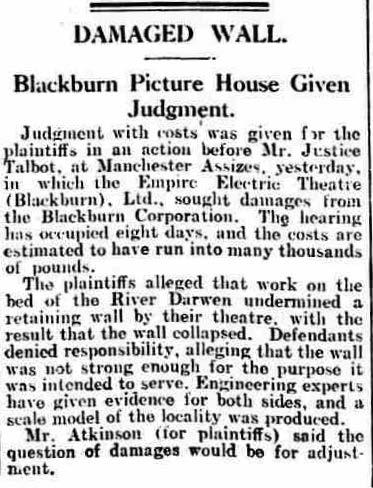 Inspection of the deteriorating retaining walls revealed a shocking 20-inch gap where solid mortar should have been, indicating the extent of the erosion. To prevent further damage, a coffer-dam was erected, acting as a barrier against the river.
Justice Talbot presided over the court case and ruled in favour of the Empire's Board. The Corporation was ordered to immediately restore the river wall and was obligated to maintain it in perpetuity. Additionally, the court imposed costs on the Corporation and granted compensation to the theatre for its loss of earnings during this tumultuous period.